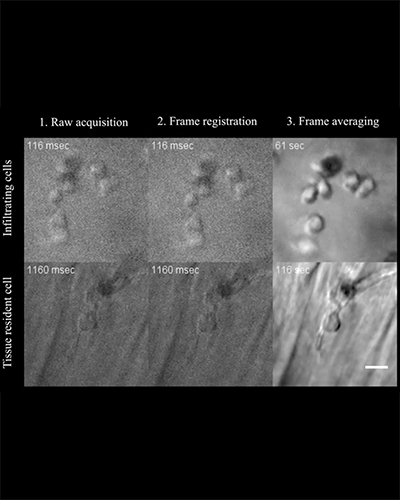 Dana Foundation Q&A with awardee Jesse Schallek
When you visit the ophthalmologist or optometrist to check your vision, the doctor will likely use an imaging tool called an ophthalmoscope to get a detailed look at the back of your eye, where the retina, optic nerve, and vasculature reside. The resulting orange-ish image, accentuated with meandering red veins and blood vessels, helps the doctor determine whether your eyes are healthy.
But it's possible such images could do even more. The retina is the only portion of the central nervous system (CNS) that can be observed from outside the body. Your eye doctor, in fact, can get a glimpse of it simply using a bright light and that ophthalmoscope. Jesse Schallek, Ph.D., has always been excited by the idea of finding a way to take images of living biology in its natural state. Today, using adaptive optics technology, a method first used to optimize long-range telescopes, he and his team have transformed the traditional ophthalmoscope so that it can now visualize the inner workings of the eye at the level of a single cell. The resulting technology offers a unique window into the CNS, which may help ophthalmologists understand the pathology of debilitating visual conditions like diabetic retinopathy and other forms of neurodegeneration and brain-related disease. Here, Schallek discusses how astronomy inspired his imaging advances, the challenges of imaging translucent cells, and how artificial intelligence can help give this kind of imaging approach even more clinical value.